Passenger Safety
Security Measures at KSRTC Bus stations
The following security measures are taken at Kempegowda Bus Stand for passenger safety:
Karnataka State Road Transport Corporation is providing transport service in 17 districts of Karnataka. In most of these district head quarters, KSRTC has operating divisions headed by a Divisional Controller. The property of KSRTC is protected by its own well trained Security Staff assisted by Home guards. The Security and Vigilance Department of KSRTC is headed by Director (Security and Vigilance) deputed from the Police Department of the rank of DIG and above.
Bus stations of KSRTC are vital place, from where the passengers arrive to board the bus to various destinations. KSRTC has constructed, operated and managing 168 bus stations. These bus stations, apart from platforms for dispatching buses, is also providing commercial establishments, A Rest houses, Modern toilets, ATM cash counters, Telephone booths, A cloak room, Car & Two wheelers parking facilities.
With thousands of passengers depart and arrive in these bus stations and being a vital public place, there is a possible threat from terrorists / Anti social elements. Apart from the threat, there is a need to prevent illegal activities such as Touts, Pick pocketers / Suitcase lifters, Beggars, Hawkers, Prostitutes in the bus stations.
To prevent such activities, KSRTC has deployed Security staff in its Major Bus stations. In Bangalore, it has 3 major bus stations, Kempegowda Bus Station, Mysore Road Bus Station, Byatarayanpura and Basaveswara Bus station, Peenya, likewise Ramanagar, Mandya, Mysore, Madikeri, Chamarajanagar, Mangalore, Puttur, Hassan, Udupi, Hassan, Chickmagalur, Shimoga, Davanagere, Chitradurga, Tumkur, Kolar and Chikkabalapur Districts have major bus stations.
Currently the security staff deployed in the major bus stations has been trained by the police department. Few of the security measures being followed in bus stations are as under:
Entry into the bus stand is restricted through gates and all around the bus station is barricaded with compound wall.
Depending on the threat perception Security staff have been deployed. Example.
KBS division has 101 Security Guards, 14 Security Havaldars, 5 Assistant Security Inspector 1 Divisional Security Inspector headed by a Deputy Chief Security &Vigilance Officer.
All baggage's are checked through either DFMD or Hand Held Metal Detectors.
Close Circuit Television Cameras have been installed in some of the major bus stations.
Outpost police stations were established at Bangalore and Mysore. In Bangalore outpost police stations is established at KBS, while outpost monitored by Police is established at MRBS and Peenya Bus Stations.
Currently on requisitions a KSRP platoon is being stationed round the clock in some of the bus stations.
Measures to dispose of un-claimed luggage of cloak room and abandoned vehicles is being done routinely with the help of Police.
Anti-sabotage checks with the anti-sabotage equipments and sniffer dogs are being carried out in the Bus Stations with the help of State Police Department.
An Emergency Response Squad headed by Divisional Controller of the Division is created to closely monitor the threat perception and to take preventive security measures in the bus stations. These measures are closely monitored by the Central Offices, KSRTC on hourly basis.
With the above measures, KSRTC is in the process of recruiting additional security personnel to cover most of the major bus stations.
ANTI SABOTAGE CHECKS AT BUS STATIONS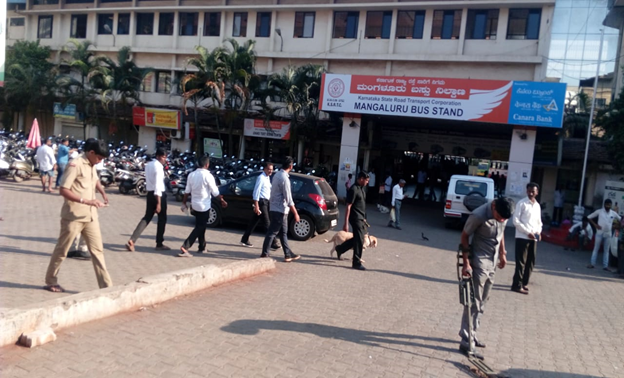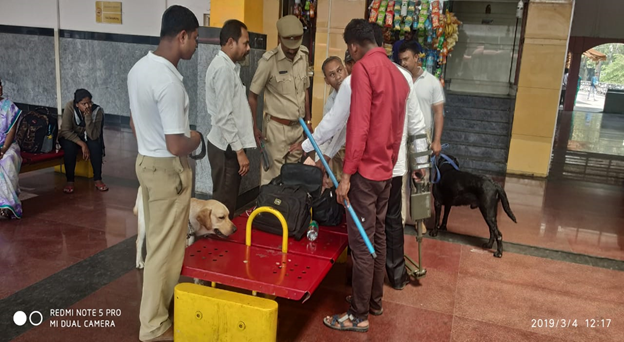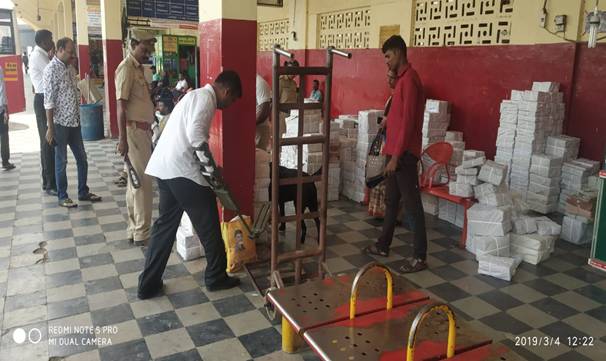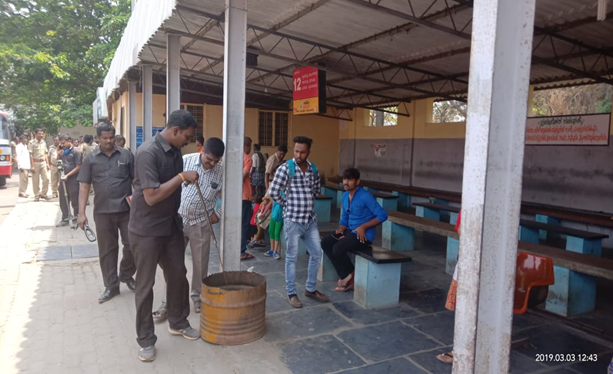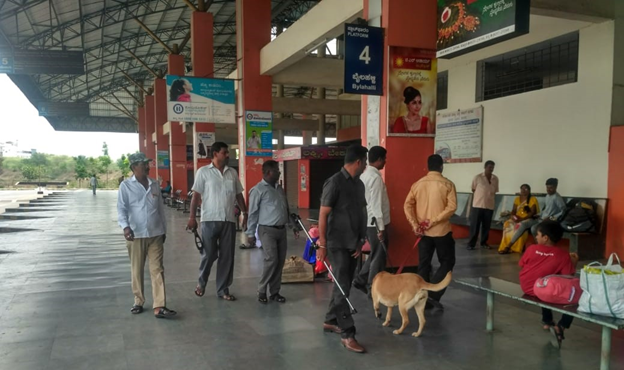 FIRE DRILL AND DEMONSTRATIONS FOR KSRTC STAFF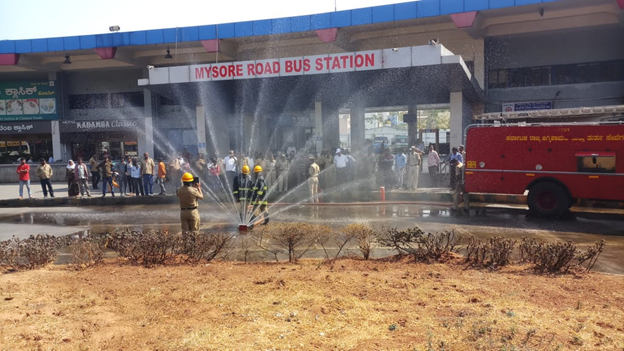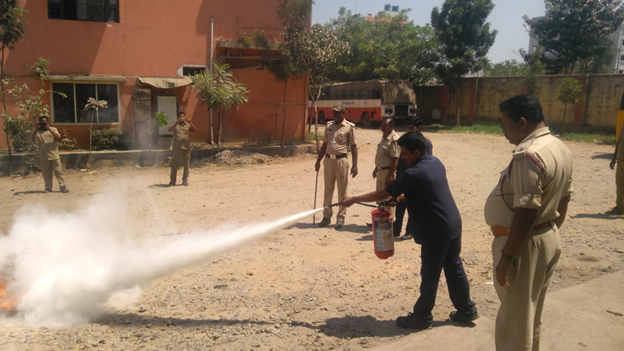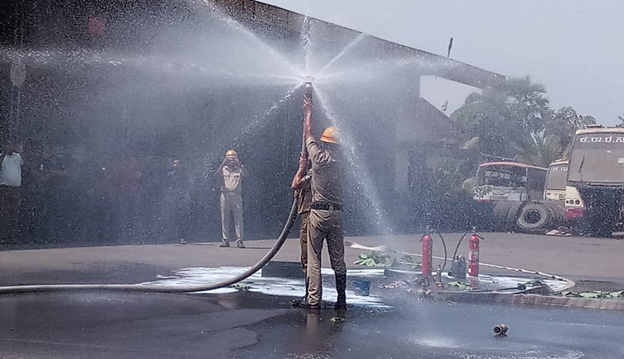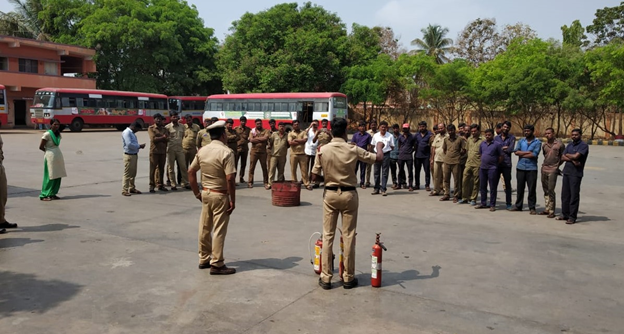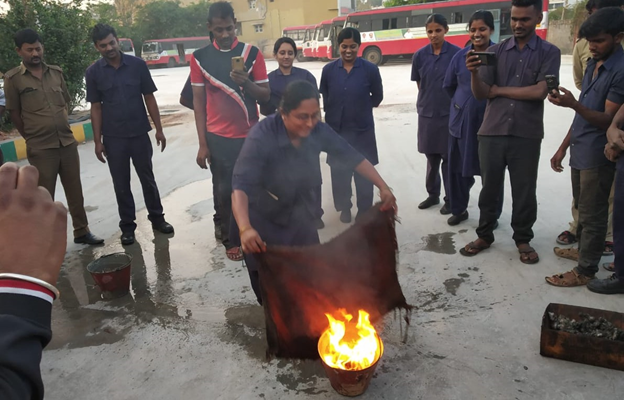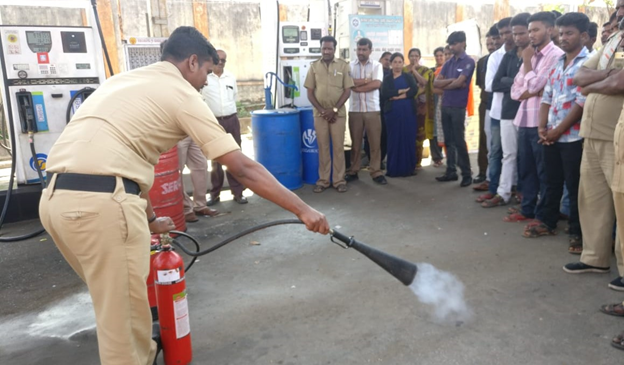 KSRTC PASSENGERS ACCIDENT RELIEF FUND TRUST
KSRTC Passengers Accident Relief Fund Trust has been formed w.e.f.01-06-2002 in order to provide immediate financial relief to the legal heirs of the deceased passengers who die in road accidents while travelling in KSRTC buses. The relief paid by the ARF Trust is in addition to the MACT claims settled by the KSRTC. The relief amount has been enhanced to Rs.2.50 lakhs per passenger w.e.f.01-09-2008. Trust own and maintain 8 wreckers to carryout relief rescue operation during road accidents.
---
Last updated date
01-11-2019 03:15 AM